Monday, July 20, 2020
San Francisco, CA, USA
Are we bored of my "I'm actually a very serious reader but occasionally give into long, frothy benders in chick lit" apologetics yet? If only y'all understood how horrified I imagine my academic, cerebral, intellectual, handsome grandfather would be if he knew that his descendents had their noses in decadent contemporary literature. It's on my list of things to dissect in therapy, but I'm afraid we're backlogged at the moment because I'm in my mid-twenties and therefore in a permanent state of crisis. I will get back into a reading habit that will make my Chiang lineage proud soon, I promise! But for now, the yummy summer reads I've (very, very, verrrrrrry guiltily) read this month:
One to Watch: A Novel | Kate Stayman-London
Synopsis: Bea Schumacher is a devastatingly stylish plus-size fashion blogger who has amazing friends, a devoted family, legions of Insta followers—and a massively broken heart. Like the rest of America, Bea indulges in her weekly obsession: the hit reality show Main Squeeze. The fantasy dates! The kiss-off rejections! The surprising amount of guys named Chad! But Bea is sick and tired of the lack of body diversity on the show. Since when is being a size zero a prerequisite for getting engaged on television?
Just when Bea has sworn off dating altogether, she gets an intriguing call: Main Squeeze wants her to be its next star, surrounded by men vying for her affections. Bea agrees, on one condition—under no circumstances will she actually fall in love. She's in this to supercharge her career, subvert harmful beauty standards, inspire women across America, and get a free hot air balloon ride. That's it.
But when the cameras start rolling, Bea realizes things are more complicated than she anticipated. She's in a whirlwind of sumptuous couture, Internet culture wars, sexy suitors, and an opportunity (or two, or five) to find messy, real-life love in the midst of a made-for-TV fairy tale. In this joyful, wickedly observant debut, Bea has to decide whether it might just be worth trusting these men—and herself—for a chance to live happily ever after.
LC Notes:
UghHHH I hate that I really enjoyed this book, but that's against me + my oft-mentioned childhood trauma about reading chick lit. I don't watch any Bachelor-type shows, so no immediate points there, but I surprisingly liked the ultra-modern format of this. The plot is interspersed with secondary context - podcast transcripts, emails, horrible Instagram comments, etc - which typically reads a bit cheesy but worked really well here. Perfect pacing. Recommend! 4/5
Happy and You Know It | Laura Hankin
Synopsis:
After her former band shot to superstardom without her, Claire reluctantly agrees to a gig as a playgroup musician for wealthy infants on New York's Park Avenue. Claire is surprised to discover that she is smitten with her new employers, a welcoming clique of wellness addicts with impossibly shiny hair, who whirl from juice cleanse to overpriced miracle vitamins to spin class with limitless energy.
There is perfect hostess Whitney who is on the brink of social-media stardom and just needs to find a way to keep her flawless life from falling apart. Caustically funny, recent stay-at-home mom Amara who is struggling to embrace her new identity. And old money, veteran mom Gwen who never misses an opportunity to dole out parenting advice. But as Claire grows closer to the stylish women who pay her bills, she uncovers secrets and betrayals that no amount of activated charcoal can fix.
Filled with humor and shocking twists, Happy and You Know It is a brilliant take on motherhood – exposing it as yet another way for society to pass judgment on women – while also exploring the baffling magnetism of curated social-media lives that are designed to make us feel unworthy. But, ultimately, this dazzling novel celebrates the unlikely bonds that form, and the power that can be unlocked, when a group of very different women is thrown together when each is at her most vulnerable.
LC Notes:
I don't know why I'm fascinated with the unrelatable concerns of the elite, but I am - especially if they're wealthy, wildly insecure mothers. Bonus points if they're mommy bloggers. A juicy little read to plow through in a single sitting if you liked
Big Little Lies
,
The Nanny Diaries
-- that sort of thing. Recommend (but with managed expectations that this won't change your life or anything)! 3/5
Sex & Vanity | Kevin Kwan
Synopsis:
On her very first morning on the jewel-like island of Capri, Lucie Churchill sets eyes on George Zao and she instantly can't stand him. She can't stand it when he gallantly offers to trade hotel rooms with her so that she can have a view of the Tyrrhenian Sea, she can't stand that he knows more about Casa Malaparte than she does, and she really can't stand it when he kisses her in the darkness of the ancient ruins of a Roman villa and they are caught by her snobbish, disapproving cousin Charlotte. "Your mother is Chinese so it's no surprise you'd be attracted to someone like him," Charlotte teases. The daughter of an American-born Chinese mother and a blue-blooded New York father, Lucie has always sublimated the Asian side of herself in favor of the white side, and she adamantly denies having feelings for George. But several years later, when George unexpectedly appears in East Hampton, where Lucie is weekending with her new fiancé, Lucie finds herself drawn to George again. Soon, Lucie is spinning a web of deceit that involves her family, her fiancé, the co-op board of her Fifth Avenue apartment building, and ultimately herself as she tries mightily to deny George entry into her world--and her heart. Moving between summer playgrounds of privilege, peppered with decadent food and extravagant fashion, Sex and Vanity is a truly modern love story, a daring homage to A Room with a View, and a brilliantly funny comedy of manners set between two cultures.
LC Notes:
All of the outrageous decadence and otherworldly philosophies of
Crazy Rich Asians
without Rachel Chu's tempering reality check. We are decidedly
not
in the right climate to sympathize with gazillionaires (though, have we ever been?) and somehow... I still did? Like, I genuinely felt some human connection with the protagonist, whose hardships are both unfathomable (I can't even get *one* billionaire to propose to me!) and endearingly unoriginal (caught in between two cultures! A revelation indeed!). Of course I breezed through
Sex & Vanity
as soon as my local library had it. Of course I'll do the same with the next two in the trilogy. Recommend! Of course, of course. 3/5
If I Had Your Face: A Novel | Frances Cha
Synopsis:
Kyuri is an achingly beautiful woman with a hard-won job at a Seoul "room salon," an exclusive underground bar where she entertains businessmen while they drink. Though she prides herself on her cold, clear-eyed approach to life, an impulsive mistake threatens her livelihood.
Kyuri's roommate, Miho, is a talented artist who grew up in an orphanage but won a scholarship to study art in New York. Returning to Korea after college, she finds herself in a precarious relationship with the heir to one of the country's biggest conglomerates.
Down the hall in their building lives Ara, a hairstylist whose two preoccupations sustain her: an obsession with a boy-band pop star, and a best friend who is saving up for the extreme plastic surgery that she hopes will change her life.
And Wonna, one floor below, is a newlywed trying to have a baby that she and her husband have no idea how they can afford to raise in Korea's brutal economy.
Together, their stories tell a gripping tale at once unfamiliar and unmistakably universal, in which their tentative friendships may turn out to be the thing that ultimately saves them.
LC Notes:
I was really looking forward to this because it was so highly lauded by Korean American bloggers I follow, but somehow I just didn't connect with any of the characters - probably because it flits between different perspectives and we all know I'm not intelligent enough for that! I also think there's still a stubborn little part of me that believes vanity is a personal, rather than social or cultural, flaw despite the author's attempts at explaining otherwise. I think it's a solid book with an interesting premise, I just struggled to stay engaged throughout. 3/5
Pretty Things: A Novel | Janelle Brown
Synopsis:
Nina once bought into the idea that her fancy liberal arts degree would lead to a fulfilling career. When that dream crashed, she turned to stealing from rich kids in L.A. alongside her wily Irish boyfriend, Lachlan. Nina learned from the best: Her mother was the original con artist, hustling to give her daughter a decent childhood despite their wayward life. But when her mom gets sick, Nina puts everything on the line to help her, even if it means running her most audacious, dangerous scam yet.
Vanessa is a privileged young heiress who wanted to make her mark in the world. Instead she becomes an Instagram influencer—traveling the globe, receiving free clothes and products, and posing for pictures in exotic locales. But behind the covetable façade is a life marked by tragedy. After a broken engagement, Vanessa retreats to her family's sprawling mountain estate, Stonehaven: a mansion of dark secrets not just from Vanessa's past, but from that of a lost and troubled girl named Nina.
Nina's, Vanessa's, and Lachlan's paths collide here, on the cold shores of Lake Tahoe, where their intertwined lives give way to a winter of aspiration and desire, duplicity and revenge.
This dazzling, twisty, mesmerizing novel showcases acclaimed author Janelle Brown at her best, as two brilliant, damaged women try to survive the greatest game of deceit and destruction they will ever play.
LC Notes:
Okay, so look: if you liked
The Italian Job
, but also that juicy expose on Anna Delvey, and are also secretly interested in influencer gossip, you'll love
Pretty Things
. Another quick read that's entertaining but not life-changing. 4/5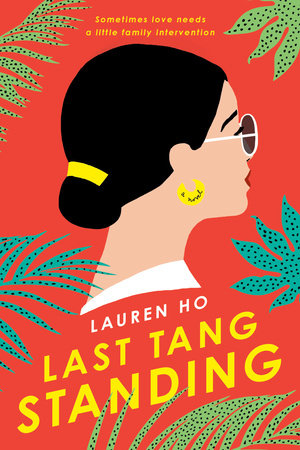 Last Tang Standing | Lauren Ho
Synopsis:
At thirty-three, Andrea Tang is living the dream: she has a successful career as a lawyer, a posh condo, and a clutch of fun-loving friends who are always in the know about Singapore's hottest clubs and restaurants. All she has to do is make partner at her law firm and she will have achieved everything she (and her mother) has ever worked for. So what if she's poised to be the last unmarried member of her generation of the Tang clan? She doesn't need a man to feel fulfilled, no matter what her meddling relatives have to say about it.
But for a dutiful Chinese-Malaysian daughter, the weight of familial expectations is hard to ignore. And so are the men life keeps throwing in Andrea's path. Men like Suresh Aditparan, her annoyingly attractive rival for partner and the last man she should be spending time with, and Eric Deng, a wealthy entrepreneur whose vision for their future is more lavish than she could have imagined. With her workplace competition growing ever more intense, her friends bringing dramas of their own to her door, and her family scrutinizing her every romantic prospect, Andrea finds herself stretched to the breaking point. And she can't help but wonder: In the endless tug-of-war between pleasing others and pleasing herself, is there room for everyone to win?
LC Notes:
Described as the Asian version of
Bridget Jones's Diary
. I've never seen
Bridget Jones's Diary
, but I'm guessing its Asian adaptation would have an even more intense matriarchy and every character would have graduated from a top-tier university. Sorry, not top-tier. The literal, singular top. I've also read comments calling this book out for being classist/colorist/generally problematic, and I definitely get those critiques, but I think they're just openly acknowledged elements of the flawed humanity suggested in
Last Tang Standing
. Book cover reminds me a lot of
Crazy Rich Asians
, but weirdly they were done by different designers.
ps,
I'm trying not to be a consumerist shill - especially not an Amazon one - but there's a
new Kindle Paperwhite
in a gorgeous plum color (looks pink to me, idk)! I've
really, really
loved my Kindle Paperwhite (an older model, college graduation gift) so won't be purchasing, but definitely recommend looking into buying one to load library books onto.